TC Electronic XO24 digital speaker management controller
Sold out
Original price
$749.99
-
Original price
$749.99
XO24
The TC Electronic XO24 digital speaker management controller is a compact and powerful DSP based audio processing unit that will improve the quality of your audio.
It's so easy to use that you'll be up and running in an instant and you'll always know where you are - it's GPS for your audio.Ideally suited for fixed and live applications, the XO24 is loaded with features designed to optimize your loudspeaker system, all accessible via the 'one-click' architecture of the front panel. Incorporating the unique routing engine, the XO24 can be configured as a 2-, 3- or 4-way speaker management system.
In addition, each input offers a 4-band parametric EQ that you can use to compensate for the ill effects of poor room acoustics. Bands 1 and 4 can be set for a LF & HF shelving response. Four additional bands of parametric EQ can be found on each output as well, providing a precision tool for final speaker tuning.
Limiting, independent delay lines and the flexibility of selecting infinitely variable x-overs on each channel are staple features, and behind it all lays renowned TC Electronic quality. Whether it's channel distribution, room equalization or speaker management, the XO24 combines the functions of multiple products in a 1 RU configuration.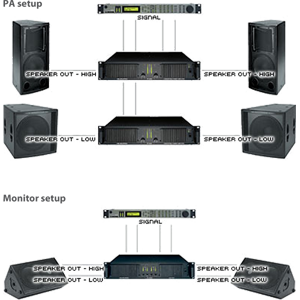 Setup Examples
The XO24 let's you make the most of your speaker system, controlling the chain of commands with ease and elegance. Several different setups are easily available via the routing section, which you might call the "railway-station" in the signal chain.
Below there's a couple of illustrations of typical setups.
Signal Flow
The XO24 has been designed with ease of use in mind. For our users it is paramount that the chain and command of the signal flow is intuitive and works in an instant.
The illustration below shows how simple things can be when they are done right.
The unique routing engine allows any input to be routed to any output.
When working in an e.g. live situation, it takes the pressure off when you know that the gear you're working with is reliable, and that it yields all the flexibility you need if and when you have to adapt to the situation at hand.